Your partner for a more sustainable tomorrow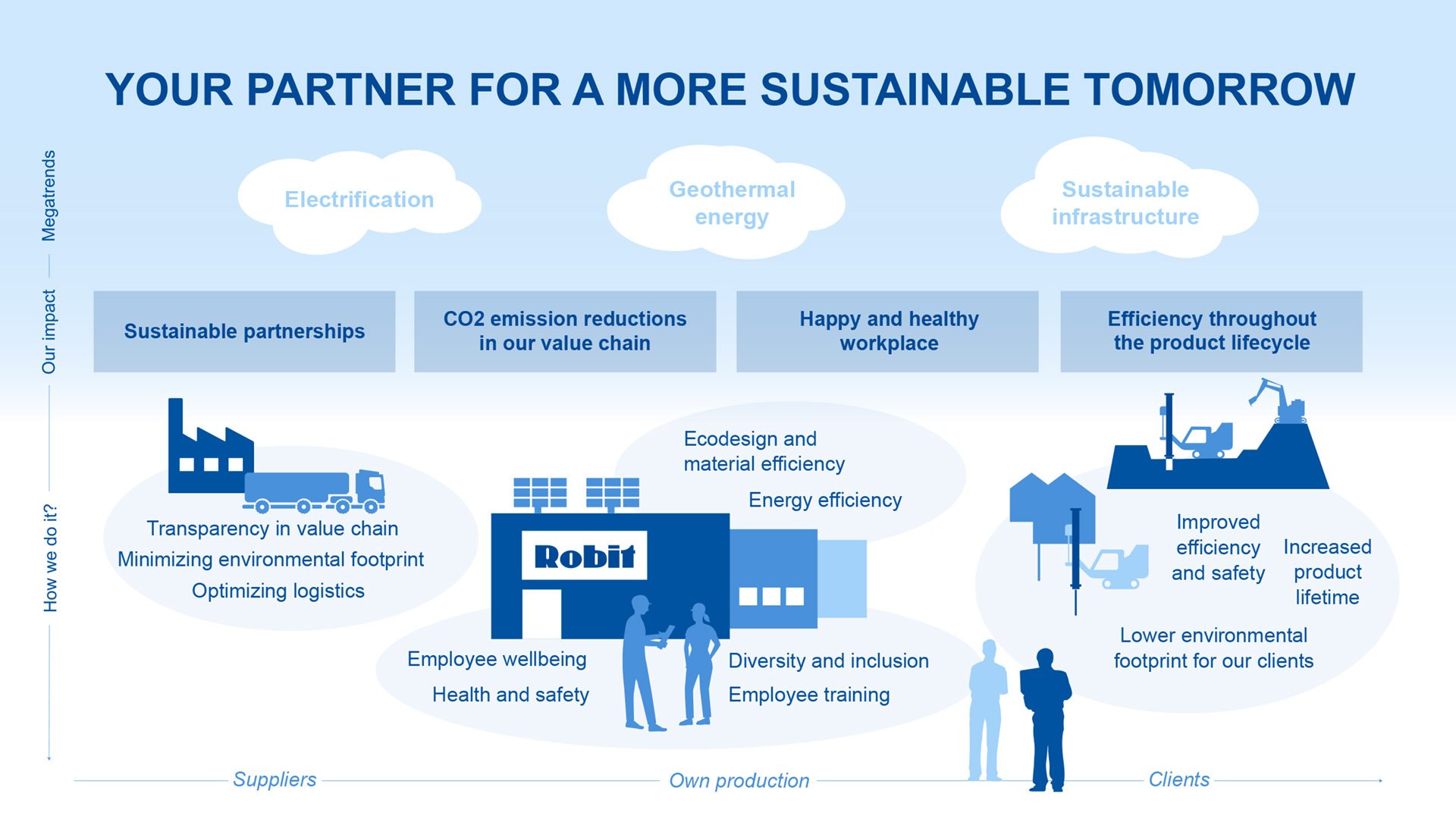 Sustainable partnerships
Both upstream and downstream in its value chain, Robit develops the sustainability and operational performance through long-term partnerships. Robit works with partners who share similar principles and targets when it comes to environment, social responsibility, and governance. The company's target is to have minimum 90% of its volume coming from suppliers and distributor partners who have committed to Robit's ESG principles.
CO2 emission reduction in our value chain
Robit's 2020 carbon footprint (scope 1 and 2) calculated according to Greenhouse Gas Protocol (GHG Protocol) Corporate Standard was 3 383-ton CO2e corresponding to 36.9-ton CO2e per million euro of net sales. Robit is committed in reducing its scope 1 and 2, CO2 intensity by 50% by 2030 from the baseline year 2020. The company increases share of green energy used in the factories.
Healthy and happy workplace
Robit targets to be a desired employer and to offer a healthy workplace for its employees. Robit continually works to improve safety at the company. There is a Robit HSE Team in place, which coordinates safety activities within the Group. Robit continues to build diversity and inclusion as a natural part of Robit culture. Diversity is already today one of the strengths at Robit and there are tens of different nationalities working in the company. Robit targets at zero lost time incidents and to constantly improve engagement of its people.
Efficiency throughout product lifecycle
Efficiency throughout the product lifecycle means:
Material efficiency in product design and production,
Materials are sourced efficiently and from sources that share Robit's ESG vision,
Increasing product lifetime through training and value adding services,
Decreasing waste in customers' operations.
Especially big leverage is in optimizing Robit's customers' drilling operations. By optimizing the drilling operation, it is possible to reduce energy consumption and increase rate of penetration and thus drilling efficiency. Only by optimizing less than 50 drill rigs, CO2 savings can be well above Robit's 2020 scope 1 and 2 CO2. Therefore, Robit is committed to provide at least 1 000 hours of consultative sales training to Robit's and its distributors' sales and technical people. In consultative sales trainings, people receive tools and knowledge to work with customers to improve drilling efficiency.