Building Spain's infrastructure since 2001
9.1.2019
17 years, 240 tunnels, 2 million metres of forepoling: the shared history of Robit and Hard & Wear Technologies in a nutshell.
Spain is a mineral-rich country with a vibrant mining industry. It is also a country crisscrossed with several mountain ranges, which means road and rail construction often involves the excavation of tunnels. Ever since 2001, these industries have been served by the dynamic duo of Robit and Hard & Wear Technologies. During that time they have been involved in more than 80 % of all tunnels executed in Spain.
Geologically, the Iberian Peninsula is very diverse, and in tunneling work you need to deal with many kinds of complicated terrains: volcanic ash, sand, clay, gypsum, and granite, to name just a few. Advancing a tunnel in a soft ground or broken rock requires forepoling, also known as the tube umbrella method.
Hard & Wear Technologies SA, a leading supplier of forepoling tools, is the distributor of Robit casing systems in Spain. The Robit umbrella casing system allows easy driving of the casing tubes into the ground.
2018 was another busy year for the dynamic duo in Spain. It included the completion of two tunnels along the Madrid–A Coruña high-speed rail line: one in Padornelo in the Zamora province, and one in Cerdedelo in the Ourense province, adding up to a total of 40,000 metres of forepoling.
Late in the year, contracts were signed for two joint ventures concerning work on two metro stations in the city of San Sebastián, in the Basque Country in northern Spain. Initially the contracts cover a total of 3,000 metres, but this figure is expected to increase greatly.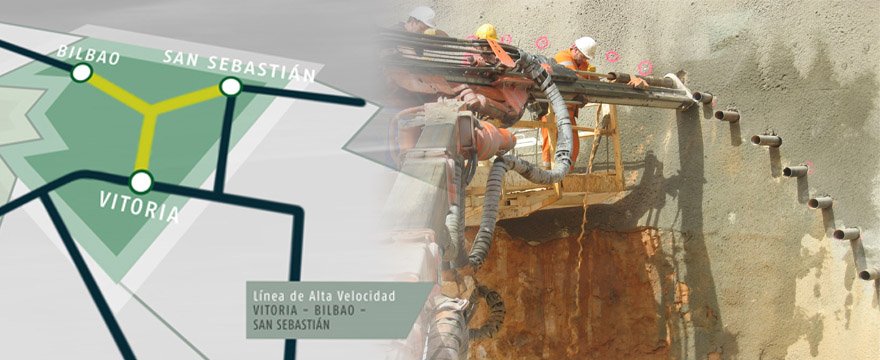 The outlook for 2019 shows no sign of slowing down. Robit and Hard & Wear Technologies have signed Letters of Commitment for the supply of materials for six more tunnels in the Basque Country, serving a new high-speed rail line between Madrid and the French border.
Applications
Drilling methods / services