Effective results in Aggregate Andesite & Cement Quarry
24.11.2020
As Indonesia continues to see a rising trend in the number of COVID-19 infected cases, the country especially Jakarta as the capital city where infections are the highest, continues to face a challenge to balance between containing the pandemic while maintaining the economy's sustainability.
PT. Marton Tekindo Abadi as Robit's distributor in Indonesia continues to show its highest level of professionalism and support for its clients across Indonesia amidst the pandemic. By complying with the protocols and regulations issued by the government and obtaining the necessary permits to continue business operations, Marton is able to continue supporting customers' consumables needs across Indonesia.
Together with the support of Robit, Marton is able to maintain its supply and technical support to the customers. During these times, we believe that it is even more important to show our commitment and ability to support our customers to fortify the customers' trust towards Marton and Robit. With a good teamwork between Marton and Robit, we are able to seize this moment as an opportunity to strengthen our presence in the market.
*Note: We highlight 2 customers here that are still operating during this pandemic one from aggregate quarry and another from cement quarry.
---
PT SUMBER TIGA PERMATA
PT Sumber Tiga Permata (PT STP), a long-standing and loyal customer of Marton, got acquainted with Robit drilling consumables when Marton and Robit started a distributor partnership. Being satisfied with Robit product performance, the co-operation continues with Robit drilling consumbales.
2 pneumatic drills of Furukawa PCR200 are in use in three of PT STP's quarry locations
In total, 6 units are in operation
As PT STP puts after-sales service in high regards, it is satisfied with the quality of Robit rock tools' performance as well as the after-sales support receiving from Marton and Robit.
Segmentation: Aggregate Andesite Quarry
Location: Plered, Purwakata
Please find the picture above.
---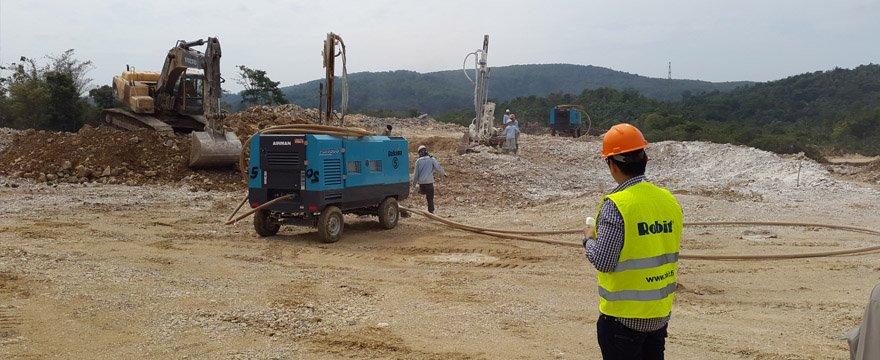 PT CEMINDO GEMILANG
PT Cemindo Gemilang is one of the major cement producers in Indonesia, known for its brand "Semen Merah Putih"
5 hydraulic drills: 3 units Soosan CSM (ex Junjin CSM) supplied by Marton, 2 units Epiroc hydraulic drills and 2 pneumatic drills from Furukawa PCR200

– 4" bits are used at site

Cement plant capacity in Bayah is able to produce up to 4 million tons of cement per year
Marton supplied 3 units of Soosan CSM Top Hammer hydraulic drills, and Cemindo uses also Robit rock tools across its multi-brand drill rigs
Cemindo continues to be a committed customer of Robit, as our distributor partnership ensures a sufficient stock for the customer's production and also provides excellent after-sales technical support.
Segmentation: Cement Quarry
Location: Bayah
Applications