PRODUCT DEVELOPMENT THROUGH COLLABORATION
20.7.2023
When developing products for use under several conditions, it is vital to consider the experiences of people using the products. In modern times, it is possible to simulate all sorts of conditions in a lab environment or using computer models. But these can often only give an indication of the product's performance in the real world, whereas those working in the conditions set by said real world can tell you a lot more.
For the above reasons, Robit has a long tradition of working with its distributor partners and end-customers alike regarding product development. The end-users know their equipment and circumstances better than anyone, so they can often test new and existing products under true-to-life conditions. This way, one can ensure that the test results correspond to the products' actual performance and durability capabilities.
Collaborating towards better efficiency
One of Robit's long-term test partners is Stevin Rock, which operates a limestone quarry in the United Arab Emirates with a fleet of Down the Hole (DTH) machinery. They have been using Robit-manufactured DTH tools since 2016. Stevin Rock has been using the full suite of Robit's drilling consumables, with a 4″ hammer as their workhorse of choice and adaptors, drill tubes, and 110 mm and 127 mm bits aiding the work.
The initial contract was made after Robit succeeded in the trials at the Stevin Rock quarry. Robit's products triumphed with a longer life span and lower cost per meter than the competition at the time. While some alternatives provided a higher penetration rate, this benefit was trumped by the higher number of breakages it brought. They decided to go with Robit, which offered known products that provided conclusive and consistent high performance.
In the years since the initial contract, Robit has proven itself as the right choice with an excellent overall life span of products, a high level of service, and numerous supporting drill master visits. Indeed, these visits have been the core of the support and collaboration towards the customer. A Robit drill master has been visiting the site on support duties a couple of times a year to help Stevin Rock optimize their processes. In addition, Robit and their distributor partner DeltaCorp Global have conducted on-site practical and theoretical training sessions for the operators and mechanic teams on hammer assembly, preventative maintenance, bit wear, failure modes, and best drilling practices.
Robit always aims to find the best possible distributors for each region; the goal is to find those who understand the local market, culture, and general thinking. In DeltaCorp Global, Robit has one such winner. During the years, DeltaCorp has fostered a very close working relationship with Stevin Rock. This allows them to consistently offer timely and relevant support for the customer across their organization. DeltaCorp's representatives conduct at least one visit each week to one of Stevin Rock's three sites. The purpose of the visits ranges from stock deliveries to management meetings, where product quality and life span, as well as stock levels and forecasts, are assessed. While on-site, the representatives will also visit the drill rigs to receive direct feedback from the drill operators. On top of all that, the DeltaCorp representatives maintain constant communication with Stevin Rock's site management, working swiftly in the event any concerns should be raised, such as a sudden need for urgent deliveries, an unforeseen breakage, or some other operational problem.
Thanks to continuous support, Stevin Rock has improved the results they get with their equipment even further. When the initial contract started in 2016, the average life span of a drill bit was 2,000 meters, with hammers reaching approximately 8,000 meters. With all the training given to the personnel to help them make the most out of their tools, the efforts to optimize the drilling processes, as well as the product improvements from Robit's Engineering and Production teams that based on the customer's feedback, the average bit life span has extended to 4,500 meters, with the hammers regularly exceeding 25,000 meters.
While the durability and solid performance of the drilling consumables first made Stevin Rock give Robit's drilling tools a chance, they have since gotten several more reasons to stick to their decision. And while they have been periodically testing multiple competing products, they have not had a reason to switch.
"We have been using Robit's products for years and cannot fault their performance or service. We run an open tender every two years, and they always come out on top. Robit's commitment to collaboration and continuous improvement is their great strength. However, their local Distribution Partner is also strong; with their reliable supply chain management and quick reaction times, a solution is always available to us 24/7."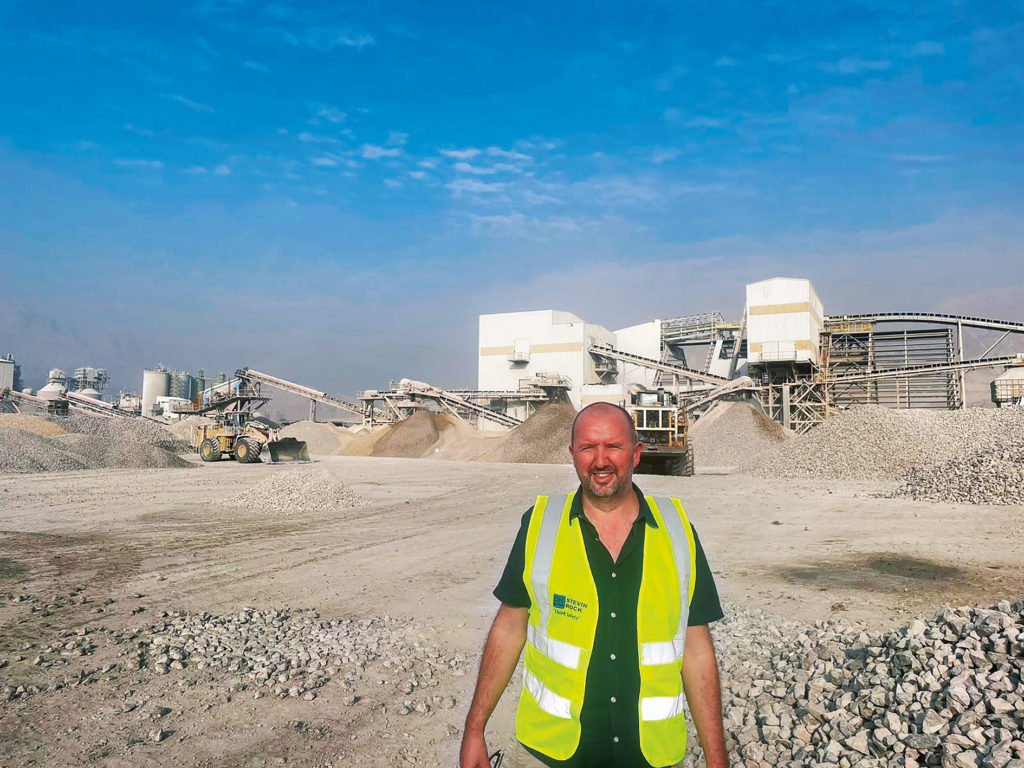 Collaboration as the basis for product development
During their years working with Stevin Rock, Robit has been conducting numerous tests on many hammers and bits. All these tests have aimed to increase the life span of the products, as well as their performance, with minimal downtime and breakages so that the customer can reduce their drilling costs to the minimum. Tests carried out with customers have been at the heart of Robit's product development process. Those trials have led to discoveries and breakthroughs that have guided the designs of their latest products, with the upcoming H-series hammers as a good reference point.
The new H-series hammers have been designed with performance and versatility as their guiding principles. The goal was to provide customers with a hammer range that they could utilize in different environments with minimal breakages and maximized utility for each operator's circumstances. Customer feedback led Robit to develop a new modular design, offering increased flexibility and adaptability to varying conditions. With a few simple changes in the assembly of the hammer, the user can customize it for their needs; whether one wants to run them with improved productivity in mind or needs to be able to use a lower capacity compressor, the H-series hammers can be modeled to suit these requirements.
In practice, the modular design allows Robit to offer four hammers in one base design. The assemblies vary between high power and low volume, as well as foot valved and tubeless. Thus the following variations are available: high power with a foot valve, high power tubeless, low volume with a foot valve, and low volume tubeless. The high-power assembly offers high blow energy and air volume, resulting in a fast penetration rate and is suitable for deep-hole drilling. On the other hand, the low-volume assembly provides lower blow energy and air consumption, which are ideal for soft ground while keeping the hammer energy efficient.
As an example, Stevin Rock was looking for a faster drilling hammer to improve the potential productivity. Robit provided them with two assemblies of the new H-series models with differing internal arrangements to control the airflow, one with low air volume and the other with high air volume. These new hammers were to be tested against the tried-and-true D45 hammer from Robit's older hammer range. The tests showed a considerable, consistent improvement across the board. The penetration rates went up in all tests, with the smallest increase at 14% and the most significant improvement at 30%. The highest penetration rate reached during the tests was 63.18 meters per hour. These results also correlated with those seen in earlier trials, ensuring the validity of the results.
With the new hammer range, Robit wants to bring more options to the market while still guaranteeing high performance. Because if one thing has become crystal clear during their collaboration with their customers, no two drill sites are the same. For this reason, they will make sure to let their customers' and distribution partners' voices be heard when developing new products and improving on the old ones.
This is an edited version of an article originally published in
Global Mining Review, May 2023.
Applications
Drilling methods / services