Record-breaking piling project in Helsinki
22.12.2020
In the late 19th century, Helsinki was growing and industrialising rapidly. This was particularly evident in the seaside district of Sörnäinen, which became the largest industrial area in the city after the construction of a cargo port and a railroad track. Now the port and factories are history, but the neighbourhood – now called Kalasatama or "Fish Port" – will remain an integral part of the Helsinki maritime cityscape in the future. That future is now being built in Verkkosaari, at the northern end of Kalasatama.
While the southern Kalasatama has been under reconstruction for years, Verkkosaari was sitting idly for a long time. Its 13 hectares are now zoned for a residential area for 3,600 people, a large daycare centre, and a marina. To start with, more than 200,000 tonnes of contaminated soil had to be removed. Before construction work can begin, the soil needs to be reinforced. New land is also being built on top of the sea, where some of the buildings will arise.
At this moment, work at Verkkosaari is in full swing with excavations, earthfilling, pile drilling, and other groundwork. Drilling contractor Fingeo is drilling micropiles for road base support, in cooperation with the main contractor GRK Infra. The jobsite is demanding.
"Most of the challenges are caused by the old structures, concrete piles, wooden piles and other materials buried in the soil. It's former seabed that had been gradually filled since the early 1900s", says Tuomas Perkiö, supervisor for Fingeo.
The jobsite is also exceptional in scope. "This is the largest micropiling project ever in Finland. We have a drilling contract for 6,000 piles, 110 km altogether", Tuomas recounts.
Fingeo started the pile drilling work at the beginning of 2020 with one drill rig. By November they were operating five drill units and had laid down some 3,800 piles, which equals to 63 kilometres. The remaining 2,200 piles will be drilled by autumn 2021.
Fingeo uses Robit's pilot bits and reamers in the drilling work, which has progressed without a hitch. "Robit's pilots and reamers are doing a great job. At best, we have drilled more than 8 kilometers with a single bit. Cooperation with our Robit contact Sami Paavola has also been excellent: deliveries run smoothly, and Robit reacts quickly to our requests and provides support whenever needed", says Tuomas Perkiö.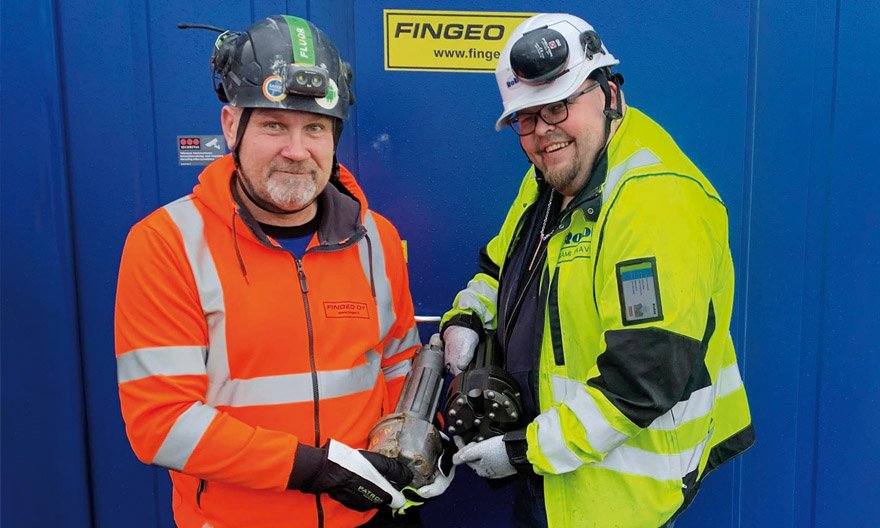 From left: Matti Tikkanen (Fingeo), pilot bit after drilling 8 km, a brand new pilot bit, Sami Paavola (Robit). Photo: Tuomas Perkiö
The remaining infrastructure works in Verkkosaari are scheduled to be completed in 2022, allowing the actual construction phase to begin. Kalasatama as a whole is one of the largest construction areas in Helsinki, and it will keep taking shape well into the 2030s.
The piling project in Verkkosaari continues into the second half of 2021. Photo on the top: Matti Tikkanen, Fingeo
Applications
Drilling methods / services