USING ROBIT TOOLS TO UPKEEP BRIDGES AND WILDLIFE IN THE NORTHEAST U.S.A.
1.2.2022
Replacing and repairing bridges improves mobility and can increase quality of life in communities. In the Northeast U.S.A., M.A. Bongiovanni, a General Contractor out of Syracuse, NY, is helping to maintain our beautiful roads by providing the foundation for safe, resilient and reliable infrastructure.
M.A. Bongiovanni specializes in the Water/Wastewater industry and in geotechnical work, including driven and sheet piles, retaining walls, piers and drilled shafts. When they were chosen to replace a bridge on New York State Route 8, they turned to OCI Division of Global Drilling Suppliers for drill tooling. As often occurs in geotechnical drilling, ground conditions require special accommodations. This job was no exception with piles needing to be placed in overburden consisting of cobbles and boulders. Drilling of overburden without casings could result in collapsed holes and tool loss.
Of Course, drilling in these environments calls for the right equipment. The job required the installation of 22 centerline soldier piles, 24" diameter, through 33' of overburden and 7' of rock as well as 11 wingwall soldier piles through 30' of overburden and 9' of rock. The Robit® Steel Fist wing bit system was the clear choice.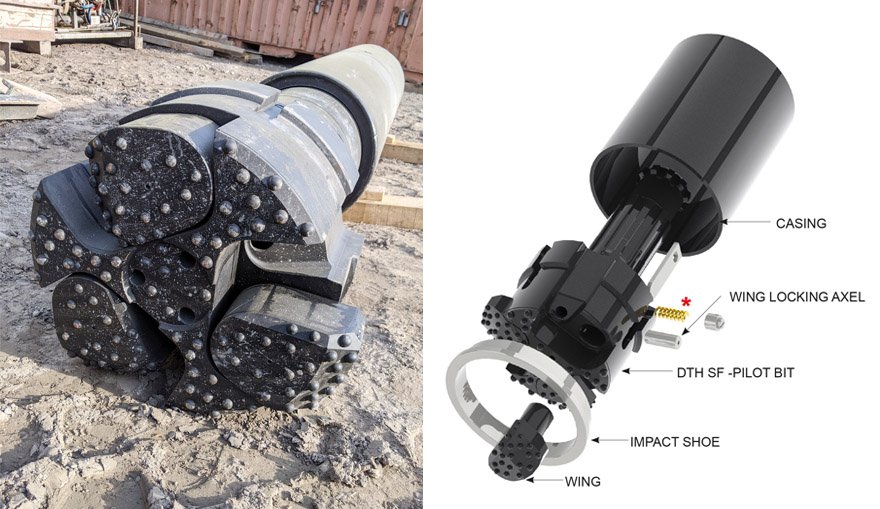 OCI Division of Global Drilling Suppliers is a manufacture of drill tools, drilling accessories, and design-built drilling equipment. As a distributor of Robit products, they assisted M.A. Bongiovanni with their first Steel Fist concentric overburden drilling system. The drilling process utilized the Robit® DTH SF (Steel Fist) and Robit® Hyper 181 18" hammer with a single rotary head duplex drilling operation. Robit was able to manufacture and deliver the Steel Fist pilot through OCI within the job's 6 week window before drilling started. Drill tools utilized by M.A. Bongiovanni, manufactured by OCI Division of Global Drilling Suppliers were:
Dual Swivel having high-pressure air inlet and discharge to enable drilled spoils containment includes a J-slot driver for driving 24" OD casing.
Canister style drill rods, 20" OD
Vibration dampening equipment
Over the hammer stabilizer, 20" OD
Inline oil injection equipment
Inline water injection equipment
OCI Division's onsite field consultant was present while tooling up and during initial drilling, and is pleased to report all expectations were met and exceeded with the Steel Fist's performance. The solid construction of the wings held up very good with no carbide loss or trouble with opening or closing during loading or unloading of casing material
Speed to finish a project is very important when replacing a bridge, as the structure being repaired typically restricts traffic during the work. Using the Robit® Hyper 181 down-the-hole hammer with the Robit® DTH SF XL2 for use with 24" OD x.500 wall casing material all holes were successfully drilled on schedule and under budget.

Applications
Drilling methods / services