12.2.2018

|

Robit opened a major production facility in South Korea
Robit Plc held a grand opening ceremony on February 8th, 2018 to mark the completion of its major productional investment in South Korea. The new production facility is located in Foreign Investment area in Hwaseong, Gyeonggi-Do, South Korea.
Local politicians attended the opening ceremony together with a crowd of stakeholders. Harri Sjöholm, Robit Plc's Chairman of the Board, expressed his thoughts: "Korea has been a really positive surprise for Robit. Korea has been an excellent place for manufacturing drill steels. Therefore, it was easy to make the decision for the new investment. Robit has manufacturing units in Finland, UK, USA and Australia. Out of these, Korean unit was clearly the best unit last year. I want to thank our Korean team for the excellent work."
The new major productional facility is to meet even better the growing demand for rods and shanks of Top Hammer product line. Hwaseong production increases significantly manufacturing capacity in South Korea as well as automation level of the production of rod and shank products. In addition, the throughput time will be significantly shortened, which improves the delivery capability and service level to customers. The new production facility has been built close to Seoul, which further improves logistical connections.
The total investment related to the production facility is approximately USD 12,4 million.
Hwaseong production facility is one of Robit Group's six manufacturing plants each one having its own focus ensuring good availability of products and service while enabling efficiency as well as supporting future growth. The company has Top Hammer line production in Finland and South Korea as well as Down the Hole line production in Australia, UK and USA.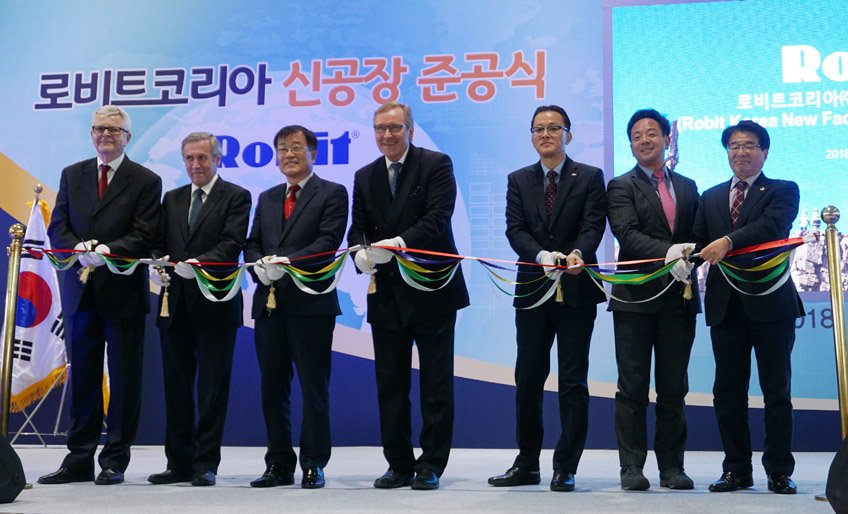 The persons from left to right are:
Matti Kotola, Member of the Board of Directors of Robit Plc – Eero Suominen, Finnish Ambassador – Gwang-Min Ahn, General Director of Hwaseong City – Harri Sjöholm, Chairman of Board of Directors of Robit Plc – James Kwack, CEO of Robit Korea Ltd – Hyunsoo Kim, General Director of International Cooperation Bureau of Gyeonggi-Do – Gil-Sup Kim, Member of Parliament of Gyeonggi-Do
---
Summary of Hwaseong production facility
Location: Hwaseong, Gyeonggi-Do, South Korea
Investment: Approximately USD 12,4 million
Area: 21,250 square meters of land size, of which 9,550 square meters of building size
Personnel: Approximately 65 persons based on three shift operations
Specific: The new factory is a state-of-art in this industry thanks to its high automation and robotization level